Quality Certification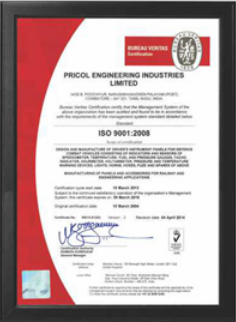 Pricol Engineering Industries Limited will provide value and satisfaction to customers on products and services. This will be achieved through:
Systematic training and motivation of employees
Complying with customer requirements and applicable statutory / regulatory requirements
Continually improving the efficiency and effectiveness of the Quality Management Systems
Defence Products

Driver's Instrument panel for T72/T90 tanks,BMP-II, Armored personal carriers.

View More

Railways

Various traction electricals and control equipments for Locomotives, EMUs and Metro Rails.

View More

Industrial Products

PEIL is well versed with the measurement, testing and controls requirements of the Industrial segment

View More

Automotive Divison

Automobile external & internal fan alternators, windshield washer systems, Oil Pressure Switch

View More
News Updates


NEED HELP? CALL US TODAY!